Resident Evil 4: Otome Edition (Part I)
RE4: Otome Moving to Tyranobuilder Engine
---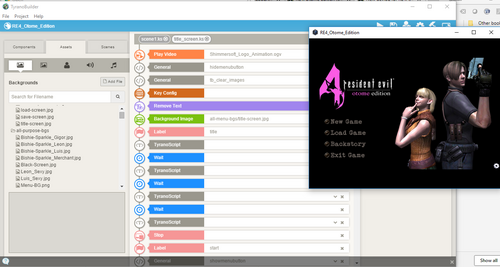 Hello Everyone,
Development on RE4: Otome Edition continues, however languidly. While the bulk of our effort is currently concentrated on finishing and polishing our first game, Paws & Effect: My Dogs Are Human!, for release in the next 2-3 months, we are working on transitioning Otome Edition to the Tyranobuilder engine. Regrettably, we expect this to set development back by at least a month, considering the extent of reconstruction, but after moving Paws & Effect to Tyranobuilder, we believe that it's in the game's best interest. Some of the advantages of the move away from the Novelty engine include:
More animation opportunities
More technical stability
Export to more platforms (Windows, Mac, browsers and phones)
Better file organization and project management
Easier game testing
Tyranobuilder, unlike Novelty, is a living product that enjoys continued support and improvement
We're excited about the opportunity to improve the quality of our games and share them with more people. We value your patience and support and hope that you'll continue to recommend our games to your friends.
Thank you,
Shimmersoft
Get Resident Evil 4: Otome Edition (Part I)